Question and Answer session with Debbie Keim, Adventure Horseback Guide: Part I of II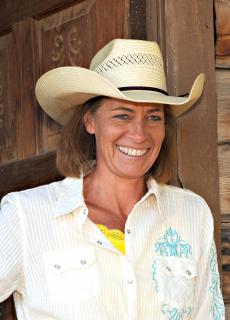 We have so many great Windwalker Adventure Horseback Guides to write about that it was hard to choose the next one for this series! But after talking with Debbie Keim a couple of weeks ago, it was obvious that she was the perfect choice to go next. This is part I of her interview:
Interviewer: What is your background in horse riding?
Debbie: I started with my first pony at age 4 or 5 at our farm in Pennsylvania. I had a couple different ponies for a few years but eventually I wanted a horse: you had to have a horse. Eventually I got one and started showing horses when I was 8, doing Western pleasure, English pleasure and Showmanship (which was judged on how well you and your horse perform together on the ground). You would do a walk, trot, and canter and be judged both on your horse and how well they performed, and second , on you and how well you rode. I did this for a few years and then running barrels starting when I was 15. I was hooked because running barrels was a lot more exciting and so I quit all the other stuff! Lol Barrel racing is a timed event where everyone races on the same pattern in an arena. You win by running the nicest, smoothest barrels in the shortest amount of time - knocking down a barrel is a 5 second penalty or a disqualification.
After getting good at barrel running, I discovered that rodeo paid much, much better and so I switched! I ended up competing in rodeo for about 31 years.
Interviewer: What were some of your accolades while barrel racing?
Debbie: Well, I went to Toronto in the mid-nineties, they had a quarter horse show there and their barrel racing was open to any breed. I won that show every year I went up there, and it always paid well! Barry Moffett went to some of those competitions to. After establishing a winning streak, I eventually joined the International Professional Rodeo Association (IPRA) where I qualified for the finals six different years. Not only that, but my horse was voted barrel horse of the year twice. The top 20 girls from the IPRA vote on best horse to establish this honor.
Watch for part II when we continue Debbie's story.
Update: Click here for part II of Debbie's story!