Hiking & Backpacking
The destination is the journey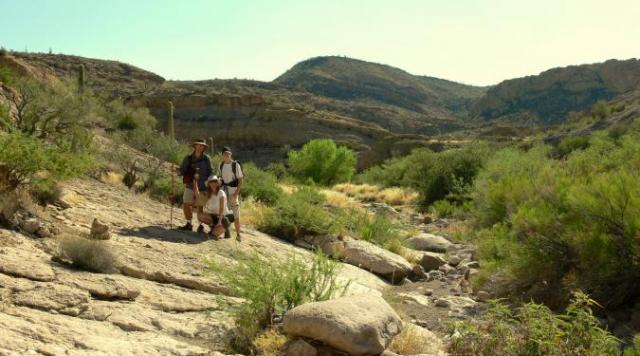 Hiking in Arizona is a pleasurable way to let your cares and stress just slip away. Windwalker's private day hikes can be tailored to meet your level of comfort, from a leisurely two hour stroll to a more challenging full day aerobic workout. Windwalker's multi-day backpacking trips are customized to meet our guests personal interests and level of skill. It's not just where you're going but who you're going with that will make your journey a memorable and educational experience.
Our guides are chosen for their level of expertise and their personal approach to customer service. You will absolutely enjoy the company of Windwalkers hiking guides, you will find them engaging as well as entertaining and you will also find that they have a vast knowledge of the ecosystems and natural history of the Sonoran Desert. Your hike will be more than memorable! But the number one reason you will come back excited about your hiking adventure, will be because of your extremely personable and knowledgeable guide.
Below you will find a few examples of our Day Hikes and Overnight Backpacking Trips
Day Hikes
We offer private two hour, four hour and full day hikes in all of our hiking areas as well as Photography workshops. We have the ability to custom design a hike based on your special area of interest. Past requests have included birding, archeology and a trekking pace based on our client's comfort level or desire to push themselves.
Seven Springs
Seven Springs is a great destination, even in the summer, just a short drive north of the Scottsdale/Phoenix area in the Tonto National Forest. Hike along Cave Creek with its lovely riparian habitat while it flows beneath Fremont cottonwoods, ash, alder, walnut, and giant Arizona sycamore trees. As you hike down the first mile in this rare lush landscape the thought might occur that you're really not in Arizona anymore! Then suddenly you enter the contrastingly different Sonoran foothills with its rugged beauty: saguaros lining the cliffs just above a gently flowing creek. This is a great half day or full day Arizona hiking trip. Bring your camera!
Camp Creek
Camp Creek is like finding a hidden oasis in the middle of the desert. Arizona is loaded with these little wonders! Giant boulders, fantastic views of Four Peak wilderness and Weavers needle in the Superstition Wilderness greet us as we travel along a ridge line dotted with cholla, occotilla, and the Sonoran Desert's signature cactus, the "saguaro". If your looking for a short energizing hike with great photo opportunities and fantastic views this is it! This spring fed riparian watershed complete with a seasonal waterfall is surrounded by numerous prehistoric archaeological sites.
Camp Creek is a great 2hr to 4hr day hike just north east of Carefree Arizona. This hike is generally easy, but offers a slight challenge as you enter and exit the canyon.
Superstition Wilderness
The 160,200 acre Superstition Wilderness is part of the 3 million acre Tonto National Forest. This rugged terrain reaches elevations from 2,000 to 6,265 feet and includes the famous Superstition Mountain and Weaver's Needle. There are about 180 miles of trails ranging from moderate to strenuous.
Even the area's earliest known inhabitants, the hardy Hohokam and Salado peoples, established only very small villages and cliff dwellings in this harsh and fabulous country between 800 and 1400 AD. Evidence of these people can be found on the Hieroglyphic Trail. It is great for all fitness levels and Hieroglyphic Canyon boasts one of the best collections of Hohokam petroglyphs in the state.The hiking trails in the Superstitions are world renown.
Backpacking
Windwalker Expeditions offers multi-day overnight backpacking treks for all levels of expertise. You will be with expert packers, and will have an opportunity to go home with a greater knowledge of leave no trace camping as well as a special relationship with nature.
Backpacking Seminar
There's more to a backpacking trip than strapping a bag on your back and walking. Learning the proper gear selection, packing your gear efficiently, and a host of other information will make your overnight trips into the Arizona wilderness more enjoyable and safe. In this class we'll also cover first aid, camp etiquette, map reading and navigation skills, leave no trace ethics, and essential survival skills.
Superstition Wilderness
If you're an adventurous soul you may choose to penetrate deep into the Superstition Wilderness. The Superstition Mountains have long been the subject of interesting stories, mystery and Indian lore. The most storied tale is that of Jacob Waltz's treasures of gold hidden in the Lost Dutchman Mine. Most of the stories are true, some are myths and others no doubt embellished through generations. One thing is for sure: the entire Superstition Mountain Wilderness Area offers commanding experiences. Windwalker offers both preplanned or custom expeditions into this magnificent landscape.
Four Peaks Wilderness
This wilderness was established in 1984, and contains approximately 60,740 acres with a major mountain rising up in its center from the desert foothills. The Four Peaks themselves are visible for many miles and are one of the most widely recognized landmarks in central Arizona. The rapid change in elevation produces interesting and unique plant and animal communities. Elevations range from 1,900 feet near Apache Lake to 7,600 feet on Brown's Peak. One of the most dense black bear populations in Arizona lives in this Wilderness. Other mammals include ring-tailed cats, skunks, coyotes, deer, javelinas, and mountain lions. Let Windwalker Expeditions custom design your privately guided backpacking trip in this amazing wilderness!