Question and Answer session with Barry Moffet, Adventure Horseback Guide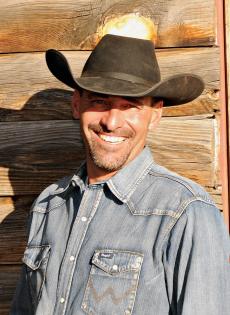 With this posting today, we are continuing our series of interviews with Windwalker's Adventure Horseback Guides. We hope that this will serve as an introduction so that you will feel as if you already know your guide a little bit before going out with them. This week, we interview Barry Moffett:
Barry Moffett is one of our most popular western horseback guides. He was born in Nevada, raised in Arizona and has been training and riding horses for 35 years, making him well-versed in the art of handling horses. Barry has competed for many years as a professional rodeo cowboy, taking numerous awards and accolades. Working with people and exploring the ponderosa pine forest of Arizona's rim country are two of his favorite activities.
Interviewer: What is it like competing in professional rodeo events? What was your role?
Barry: I did 10 years roping professionally, traveling all over the country and made my living this way, competing in a lot of rodeos. I roped as the header of a team for the longest time. The header is the guy on one side of the steer and you have another guy who is the heeler on the other side. You have to give that steer a certain amount of head start, then the header rides out and ropes him around the horns to control him and then the heeler ropes him around the back legs. The whole process is timed with a typical run taking only 4 to 5 seconds – maybe 9 seconds for a longer run. Being a header requires a very, very fast horse! And it's not always just one steer. To hit the jackpot, you have to rope three steers. My biggest winning was just under $13k.
Interviewer: What sort of training did you get before competing professionally?
Barry: Well, I went to college on a roping scholarship at Central AZ college in Casa Grande. I took a lot of small business classes, but all along I told myself, "I am going to rope for a living".
Interviewer: What advice do you give to new riders?
Barry: I always tell them, it's like anything in life – if you know you can do it, then you can do it! You become like the little red engine climbing the hill: "I think I can, I think I can!" I also give them lots of advice on technique: Heels down, toes up, heels down, toes up! Riding a horse is all about balance and confidence. It does not matter if you weigh 50 pounds or 300 pounds – if you are confident, then you can do it. And the horse will pick up on this pretty quick, they figure out early on who's boss and what you will let them get away with. If you let them do whatever they want, they will be like, "Oh, I've got Buttercup up on me!"
For more info about our guides and practical riding technique please check out other blog posts as well as sections of this site.